Projects
Our many long-standing customer relationships are proof of a trusting, result-oriented collaboration. Our communications experts have extensive experience in specialized industries and subject areas – an advantage for both existing and new customers.
View projects
Customer
DEMECAN is the only independent German company that covers the entire production chain for medical cannabis— from cultivation to further processing and storage to distribution to pharmacies. Cultivation and further processing have been carried out in compliance with the highest pharmaceutical standards in Ebersbach (near Dresden) since 2021. For this purpose, the production facility, a former slaughterhouse, was rebuilt in accordance with safety and cultivation regulations. The roofing ceremony for the greenhouse was also used as a press event. Numerous media representatives were on site to take a first look at the greenhouse, which is equipped with the highest safety standards. Currently, DEMECAN supplies one ton of medical cannabis annually to the German Federal Institute for Drugs and Medical Devices. As a pharmaceutical wholesaler, DEMECAN works with cannabis producers worldwide and imports medical cannabis that meets its own high-quality standards. DEMECAN is an important contact for political representatives at both the regional and federal level. schoesslers provides support through strategic and operative PR consulting, content creation, and press relations.
Services
Company PR (B2B und B2C) mit Fokus auf Wirtschaftsmedien
Goal
Brand Awareness, Executive Positioning
Market
Health
Customer
HARRY'S is one of the few fully vertically integrated companies that manufactures and distributes razor blades and grooming products for brands and consumers around the world. The acquisition of Feintechnik GmbH Eisfeld by HARRY's Inc. enabled this vertical structure to be successfully established. Feintechnik complements the startup with 100 years of experience in the wet razor manufacturing. From website support, event support,and PR activities in the trade and business press to employer branding measures, we support the company with a holistic PR approach.
Services
Company PR (B2B), Employer Branding & Event Support
Goal
Product & Brand Awareness, Employer Branding
Market
Industrie
Customer
As a modern insurance company in the automotive sector, Intec AG from Göttingen has specialized—by means of digital solutions—in warranty services and repair cost insurance. The portfolio covers the market for car dealerships and used car dealers as well as the market for end customers who can use the newly developed CarGO! Platform for an unbureaucratic approach to concluding individual insurance packages at the click of a button—in a transparent step-by-step model. Through our support, Intec has become known beyond Germany, and we enabled its positioning as an expert. Our communication on the new warranty law led to a 20 percent increase in the number of insurance policies taken out.
Services
Company PR (B2B und B2C) mit Fokus auf Fachmedien
Goal
Product, Trust und Brand Awareness
Market
Insurance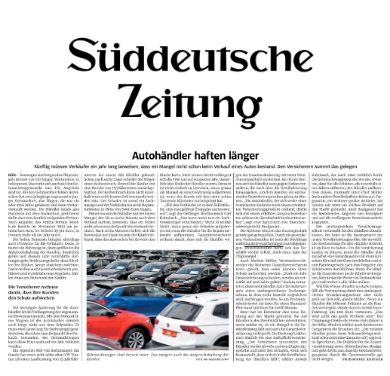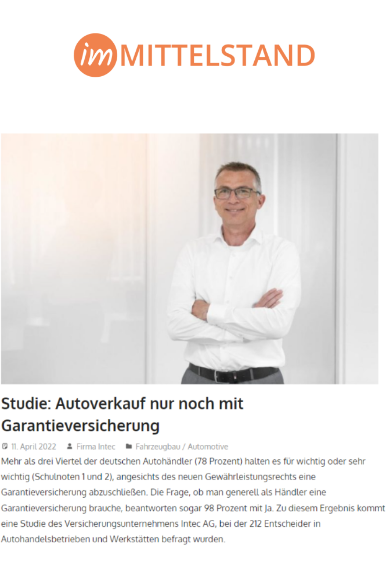 Customer
Teads enables publishers to monetize their editorial content, while advertisers can place video and display ads in high-quality content environments. schoesslers successfully repositioned Teads as a comprehensive end-to-end media platform and sustainably addressed thought leadership topics such as attention, cookie-less, and responsible media in the trade press. Founded in France in 2011, Teads is now active in 30 countries with a team of over 1,000 employees. We support Teads through strategic communications consulting, conception for repositioning from the inventor of Outstream video to the leading media platform for quality advertising as well as through active press relations.
Services
Company PR (B2B)
Goal
Product und Brand Awareness, Speaker-Positionierung
Market
Mar:Tech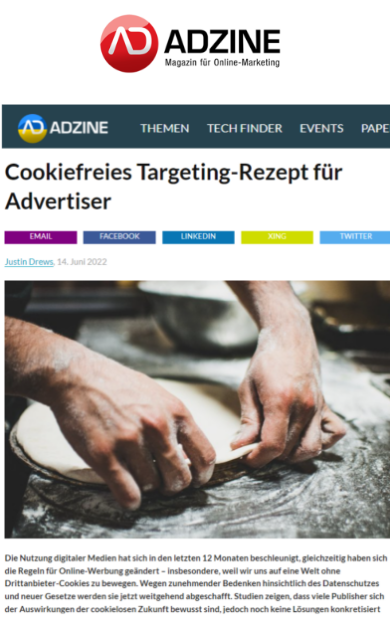 Customer
With its HR software, Bob, HiBob is changing the way companies work, as they are increasingly confronted with flexible working models such as hybrid work, remote work, or part-time work. The Human Resources Information System (HRIS) is intuitive, data-driven, and cloud-based so it can be used to manage the working conditions of global and remote teams as well as connect collaboratively with other tools. With its software, HiBob serves more than 2,500 multinational companies in twelve languages worldwide. In the DACH region alone, around 70 medium-sized companies currently use HRIS. schoesslers supports HiBob in the strategic conception and operational implementation of all PR measures in relevant B2B media as well as selected B2C media. In addition, schoesslers accompanies marketing and event activities.
Services
Company PR (B2B und B2C)
Goal
Brand & Product Awareness, Executive Positioning
Market
HR:Tech
Customer
limehome is the leading technology-based provider of design apartments in Europe and operator of fully digitalized design apartments. Through the completely digital guest journey from booking to check-out and invoicing, guests experience maximum convenience, no waiting times, and flexibility in travel arrangements. limehome is "designed to stay": The fully equipped suites meet the highest standards of functionality, comfort, and design across all locations and are designed for both short and long-term stays. The technology-based operator model allows the premium design apartments to be offered at the price of a standard hotel room. The company employs more than 160 people and has over 1,400 suites in over 100 German, Austrian, Dutch, and Spanish locations. Since 2019, we have been positioning limehome as an innovation and market leader in the proptech and hospitality sectors in the German-speaking and international press. Through regular publications in the business and start-up press, we consistently address potential partners and investors. By reporting in real estate media, we contribute to increasing the awareness of limehome among real estate managers and illustrate the profitability in the implementation of further joint real estate projects.
Services
Company PR (B2B und B2C)
Goal
Product und Brand Awareness
Market
Prop:Tech
Customer
Samsung Ads is an advertising platform specializing in advanced TV marketing solutions. The platform offers its customers a holistic approach that combines linear, OTT, and gaming content. schoesslers developed their communications strategy and supported the PR launch in Germany with the aim of positioning Samsung Ads as a leading company in the CTV sector.
Services
Company PR (B2B)
Goal
Product und Brand Awareness, Executive Positioning
Market
Mar:Tech
Customer
TeleClinic is a telemedicine platform through which physicians and other healthcare providers licensed in Germany can provide telemedicine services. The goal is to establish access to the doctor's office, the pharmacy, and medication that is as easy and as quick as possible. We helped position Teleclinic as the leading platform for online doctor appointments, creating a viable first point of contact for health questions.
Services
Corporate PR (B2B und B2C)
Goal
Product und Brand Awareness, Executive Positioning
Market
Health
Customer
Wort & Bild Verlag, based in Baierbrunn near Munich, is the leading provider of health-related media in Germany. On the occasion of its 66th anniversary the anniversary issue appeared in the style of its nickname the Rentnerbravo, a play on the name of popular teen magazine, Bravo. The issue obtained over 300 articles in renowned business and trade media, in trade magazines, and on TV and radio. Additionally, over 2,100 social media contributions were published and a total reach of around 127 million readers was achieved. schoesslers developed the idea of the Rentnerbravo together with Wort & Bild Verlag. In addition to planning and implementing such attention-grabbing campaigns to strengthen brand awareness, we provide strategic advice and handle press relations.
Services
Corporate PR (B2B und B2C)
Goal
Brand Awareness, Executive Positioning
Market
Health
Customer
Swisslog is a leader in the field of data- and robot-controlled automated logistics solutions and offers reliable, modular service concepts. As a partner of future-oriented companies, Swisslog sets new standards in warehouse automation—for future-enabled products and solutions. The company is part of the KUKA Group, a leading global provider of intelligent automation solutions. schoesslers supports Swisslog in the strategic monitoring and operational implementation of all PR and communications activities in B2B media as well as daily and business press.
Services
Company PR (B2B) und CEO Positioning
Goal
Product und Brand Awareness, Executive Positioning
Market
Industrie
Customer
MyHammer is Germany's No. 1 portal for tradespeople. As the market leader, MyHammer supports skilled trades companies in their search for job orders and helps consumers find the right company for their home and garden jobs. We have helped to spread awareness about MyHammer and its advantages among tradespeople and consumers, to strengthen trust in the platform, and thus to drive forward the digitalization of the entire skilled trades sector. We have also helped MyHammer recruit tech talent so that the company's services are sustainably positioned for the future.
Services
Company PR (B2B und B2C), CEO Positioning
Goal
Brand Building, Product- und Brand Awareness
Market
eCommerce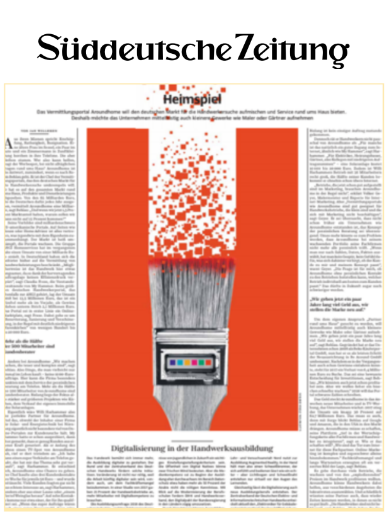 Customer
Goldbach specializes in all types of moving image spots. The offer ranges from linear TV programming to advanced TV content (CTV), online video, and digital out-of-home screens. Goldbach pursues a strongly technology-oriented approach by integrating all offers into a programmatic infrastructure. schoesslers was able to successfully position Goldbach as an innovative provider for programmatic advertising in moving images. Additionally, schoesslers was able to make important contributions to the digital economy through guest contributions on topics such as audience planning, cord cutting, and the digitalization of outdoor advertising.
Services
Company PR (B2B)
Goal
Product- und Brand Awareness, Speaker-Positionierung
Market
Mar:Tech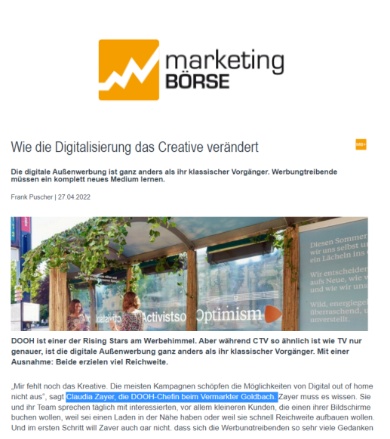 Customer
DoubleVerify (DV) is a leading global measurement and analytics platform for digital media. DoubleVerify's mission is to strengthen and secure the digital advertising ecosystem in order to preserve the fair exchange of value between buyers and sellers of digital media. schoesslers has successfully positioned DV as a premium brand for media quality and campaign performance in the German digital economy and established DoubleVerify as an innovation leader on current topics, such as the attention economy, brand suitability, and CTV.
Services
Company PR (B2B)
Goal
Product- und Brand Awareness, Speaker-Positionierung
Market
Mar:Tech